How's "The Tachman's" Work?
Here's Some Recent Testimonials!
Need Classic Car Instrument Parts?

THE TACHMAN!
---
Brian Classen from Stayton, Or., sent his 1971 Dodge Charger instrument cluster to Tachman for a full restoration. Brian needed a councours restoration so Tachman tore the cluster down, restored the housing and silk screened and calibrated the 150 speedometer and the gauges. Upon receiving the cluster here is what Brian had to say: Nice packing job, even UPS couldn't mess it up!!! The cluster is marvelous. Gary you do superior work!!!! Thanks for the comments, Brian. Glad we could help!! Happy Motoring!


---
Karl Brown of Crescent City, Ca. had the Tachman restore his low mileage 1970 Chevelle LS-5 instrument cluster. Gary, just opened the box. Everything looks beautiful as a matter of fact, the cluster looks better than it did from the factory!! Great job and quick turnaround. I will highly recommend you to anyone who needs your restoration services.
Not only did the Tachman restore his instruments, but we meticulously bead blasted and restored the metal housings to make sure they will never rust again. Thanks Karl!!!!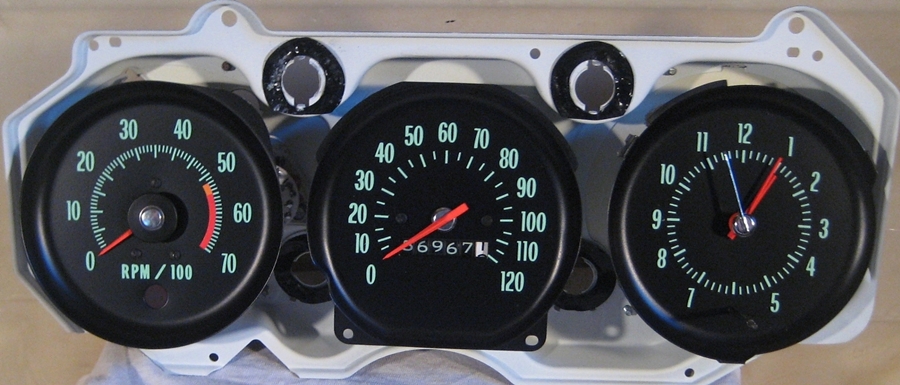 ---

Jeffery Benn from Marthasville, Mo, had this to say about Tachman"s restoration of his 1974 Challenger instrument cluster is white: Gary, The Tachman is the real deal. I talked to a couple instrument panel restoration guys and ultimately chose the Tachman. My cluster was transformed. It looks perfect. Not only did Gary change the dials to white, he replaced my broken speedometer needle, quartz updated my clock that never worked, he calibrated everything and polished my lens. The cluster looks awesome. Most importantly, Gary maintained contact with me throughout the entire process, asking and answering any and all of my preferences and concerns. Even the job documentation is spot on. Don't think twice..choose gary if you got a job to be done that needs to be done. Gary, the Tachman is a pro. 1st time customer, lifetime bragger!!! Jeff, I really appreciate the comments, Jeff knows his E body's. His 1974 Challenger is a beauty and he has promised to send me the final pictures when his dream car is completely restored. You know the number to call 864 895 4404 because the Tachman, Can!!!!! Tachman had the privilege of restoring this 1970 Plymouth Road Runner Superbird cluster for Richard Petty's garage in North Carolina. The only comment I received was "beautiful job Tachman." Look forward to more business From Richard Petty! Tachman can restore your 1968-1970 b-body cluster as well!!!!
---
Gerald who owns a restoration shop in the Philippines had this to say about the Tachman's complete restoration of his 1968 Shelby G.T.500KR cluster with 3 wire tachometer update: Gary, first great packing job. The cluster looks better than it did from the factory. I have owned the car since it was new and really appreciate your work on my instruments. Thanks from half way around the world!!! Gerald is a regular customer and has many collectable cars of all places, the Philippines!

---
Doy, from my hometown in Hagerstown, Md had the Tachman restore his 1965 Mustang G.T. instrument cluster. Doy had this to say about the restoration: I just wanted to say thank you for the effort on my gauges. Absolutely beautiful work, nice to find a real craftsman, not many left in this world!! Thanks Doy, appreciate the compliment!

---
East Coast Restorations had the Tachman restore there low mileage 1970 Chevelle SS LS-6 454-450 HP instrument cluster and had this to say about the restoration: Just got the cluster today and it truly is a work of art. I have owned the Chevelle since it was new and the cluster looks better than it did from the factory!!! Will be sending all our gauge restoration to you in the future!! Tachman knows Chevelles!!!!!
---
Jim Batchelor from Batesville, In had Tachman restore his 1970 GTX instrument cluster. Jim received the cluster and has this to say: Gary, I have the cluster and it looks fabulous. Thanks so much for you work and how fast yoou returned it to me..Couldn't be happier! Notice the Tachman does not use decals and part numbers are printed on the dials! Give the Tachman a call at 864 895 4404!
Jeff Woodard from Virginia had Tachman restore his rare 1970 Camaro L-78 instrument cluster. Here is what Jeff had to say about the restoration: The cluster looks so good that it's going to make the rest of my car look bad!! Seriously, looks really great and I can't wait to install it in my L-78!

---
Bob Eisele from Carlsbad, Ca recently had his 1970 Boss 302 (deluxe interior) instrument cluster restored by the Tachman. Here is what Bob had to say about the restorartion: Gary, the gauges look fantastic. Just like new. Better than my expectations! Thanks, Bob, happy motoring!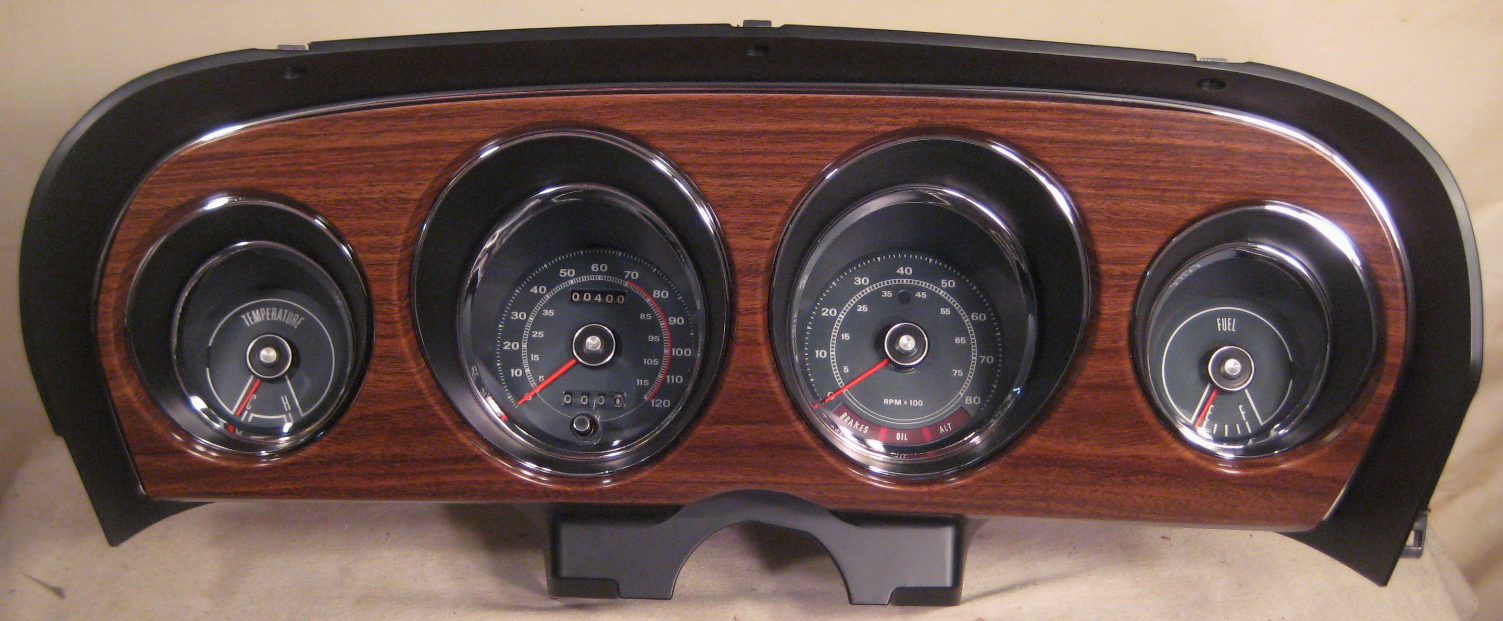 ---
James Connolly from upstate New York had his original 1971 Camaro Z-28 instrument cluster and housing tabs restored by the "Tachman". Gary, just installed the cluster and now only is it beautiful, but the housing tabs you restored fit's perfectly. Just like the way when it was first made! H&H Auto can restore your Camaro instrument housings to like new, we also restore lenses. Thanks, Jim!

---
John Schrecengost from Kittanning, Pa, sent his original 1970 Chevelle LS-6 instrument cluster to the Tachman for a complete restoration and amp gauge to volt meter conversion. John recently received his restored cluster and has this to say about the restoration: Gary, received the gauge cluster this afternoon and everything looks great. I am very pleased with the work and very excited about the conversion to volt meter. Incidentally, John has stored the original 454-450 LS-6 engine for almost 39 years! Every nut and bolt is there! He will be sending me pictures of the car when fully restored! Thanks, John.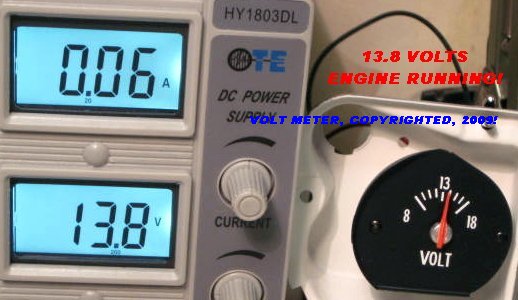 The picture on the left is John's restored LS-6 cluster with the amp gauge to volt meter conversion ready to install. Accuracy and no more guess work when monitoring your alternators output!
THE TACHMAN CAN ALSO CONVERT YOUR 1970-72 AMP GAUGE INTO AN OIL PRESSURE GAUGE. CLICK

TO FIND OUT MORE!
---
Eddie Fernandez, a dedicated police officer in New Jersey, had this to say about the Tachman's restoration of his Mustang Shelby instrument cluster with N.O.S housing: Hello, Gary I just returned from the shop where my Mustang is being restored. I dropped off the cluster and I am happy to report it was a home run. The guys at the shop loved your work and were amazed with the attention to details. Just want to thank you for the outstanding job and helping me make the right choices. Eddie is going to the Shelby convention in October and expects to win 1st place. If you saw the car and Eddie's dedication to detail I know he will win! Eddie asked me if it was ok to place a small sign next to the car stating "Restorations by the Tachman.com. Eddie was almost talked out of sending his cluster to me by a friend who had been ripped off by another restoration shop. Well, now the friend wants to send his cluster to me! When it comes to Mustang cluster restorations the staff at H&H Auto will do our best to make your dream come true!

Here is the Picture of Eddie's 1967 Shelby Instrument Cluster with an N.O.S. Housing! WOW!

---
Clint Root from Delaware, Michigan had the Tachman restore his early 1969 Mustang main side panel and all the instruments. Here is what Clint has to say upon receiving his entire 1969 instruments cluster, shown below: AMAZING!! The only thing I can say besides thank you! I have seen so many restored Machs with clusters that never received proper attention and it always made me want mine restored correctly. I really appreciate what you have done for me. There are not too many folks that impress me with their work. You, Gary, certainly have!!! Clint's cluster is shown below.

---
Trent Quick from Huxley, Ia called me and ask if The Tachman could restore his 1972 Chevelle cluster in white with special coloring on the tachometer redline and instrument needles. Trent also wanted an oil pressure gauge in place of the amp meter. Tachman silk screened the cluster in white, no decals or stickers, converted the amp gauge to oil pressure and restored all the instrument housings as well.
Here is what Trent had to say about the cluster when he received it: Gary, I received the cluster today and it looks great!! You are right about decals, screen printing on the dial is the way to go. I installed the cluster today and not only does it look great in the car, but everything works perfectly. Below are some pictures of Trent's 72 Chevelle tachometer and gauge cluster in white, The Tachman can!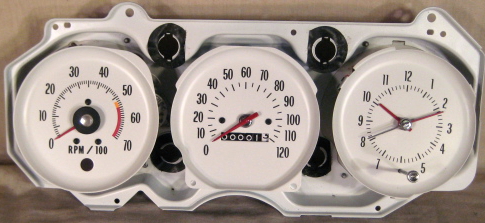 ---
Tom Hasenberg from Campbell, Ca had the Tachman restore his 1970 Boss 302 Mustang tachometer and gauge cluster. Tom wanted to keep the bezel original as he did not like the reproduction camera finish units. Tachman restored the entire cluster, silk screened all the instruments and replated/ detailed the bezel. Here is what Tom had to say about the cluster when he received the unit: Gary, the cluster is beautiful! Your 3 wire conversion on the tachometer is very accurate. I will be sending my 1969 Boss 302 cluster in the near future, thanks for a professional restoration sand timely turnaround!
Below is a picture of Tom's restore 1970 cluster with replated/restored instrument bezel!

---
Chuck Zullinger of Escondido,Ca, had this to say about the Tachman"s restoration of his 1967 Chevelle instrument cluster and clock: Gary, all I can say is Wow! Everything turned out beautiful. I can't imagine these gauges looked this good back in 1967 when they rolled of the assembly line!! Many thanks, Chuck. Call, 864 895 4404, Monday through Friday, 10-5 E.S.T. and let us restore your cluster.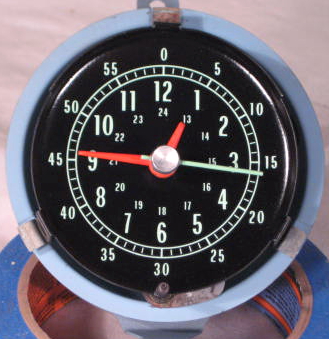 ---
Classic Restorations from Pine Island, N.Y. had the Tachman Completely restore their 1970 426-Hemi Cuda instrument cluster, comments:
Doug had this to say: Gary, I opened the box and had to go to lunch to celebrate because your restoration was so perfect and the detail was unreal.
Melvin (the owner) and I are so glad we sent the unit to you. Thanks for the constant communication and assistance you gave us. This was a real big project for us and you made it happen, on time.
Mopar restos for 30 years. www.tachman.com/mopar.htm


1972-74 E BODY GAUGE RESTORATION WITH WHITE FACED GAUGES! Click

and see our Mopar instrument restorations!
---
Terry Crossland of Clovis, New Mexico had this to say about his 67-68 Mustang speedo and tach conversion:
Gary, the conversion and re-calibration of my 67-8 Mustang speedo to 140 mph and the tach to 8000 rpm was absolutely BRILLIANT . Thanks!!!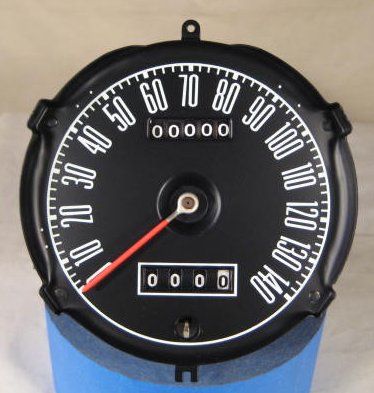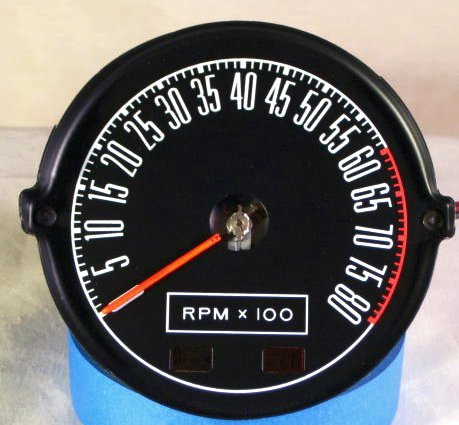 ---
Arild Thu of Sumas, Wa, owns a 1968 Shelby KR 500 Convertible. Unfortunately, his car caught fire and burned up the instrument cluster. He considered throwing the speedo and tach away because he thought they could not be saved, but then he found the "Tachman" at H&H Auto. Here are Mr. Thu's comments: Gary, I received the speedo and tach and can't believe the beautiful job you did. To think I was going to throw them out believing they were unsaveable. You truly are a master of your craft. Thanks again, Arild. The "Tachman" can.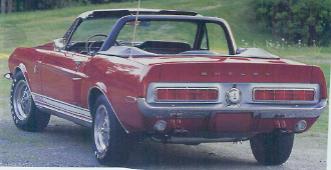 The Tachman was featured in the July, 2008 issue of "Mustang Monthly" (page 28) concerning Mr. Thu's restoration of his 1968 GT 500 "King of the Road" rag top! The Tachman is authorized Ford/Mustang instrument repair/ restoration service and can do the same for you. Check out www.tachman.com/ford.htm and see why the "Tachman" is the name you can depend on!
---
Click on the main page radio button below and see all 38 years of instrument restoration by the Tachman!