How's "The Tachman's" Work?
Here's Some Recent Testimonials!
Need Classic Car Instrument Parts?

THE TACHMAN!
---
CLICK HERE

AND TACHMAN WILL ASSIST YOU IN TROUBLESHOOTING YOUR CLASSIC CAR INSTRUMENTS!
37 YEARS OF TROUBLESHOOTING INFORMATION IS JUST A CLICK AWAY.
---
East Coast Restorations had the Tachman restore there low mileage 1970 Chevelle SS LS-6 454-450 HP instrument cluster and had this to say about the restoration: Just got the cluster today and it truly is a work of art. I have owned the Chevelle since it was new and the cluster looks better than it did from the factory!!! Will be sending all our gauge restoration to you in the future!! Tachman knows Chevelles!!!!!
---
Jim Batchelor from Batesville, In had Tachman restore his 1970 GTX instrument cluster. Jim received the cluster and has this to say: Gary, I have the cluster and it looks fabulous. Thanks so much for you work and how fast yoou returned it to me..Couldn't be happier! Notice the Tachman does not use decals and part numbers are printed on the dials! Give the Tachman a call at 864 895 4404!
Jeff Woodard from Virginia had Tachman restore his rare 1970 Camaro L-78 instrument cluster. Here is what Jeff had to say about the restoration: The cluster looks so good that it's going to make the rest of my car look bad!! Seriously, looks really great and I can't wait to install it in my L:78!

---
Bob Eisele from Carlsbad, Ca recently had his 1970 Boss 302 (deluxe interior) instrument cluster restored by the Tachman. Here is what Bob had to say about the restorartion: Gary, the gauges look fantastic. Just like new. Better than my expectations! Thanks, Bob, happy motoring!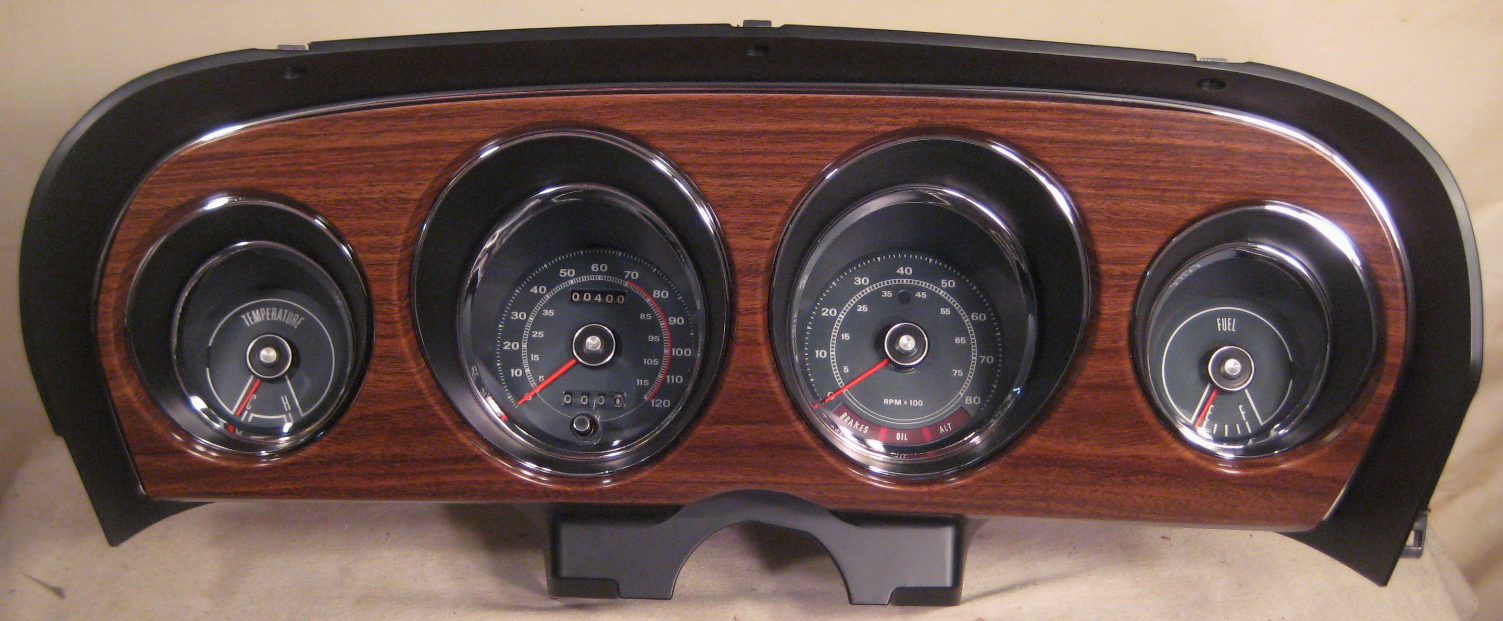 ---
James Connolly from upstate New York had his original 1971 Camaro Z-28 instrument cluster and housing tabs restored by the "Tachman". Gary, just installed the cluster and now only is it beautiful, but the housing tabs you restored fit's perfectly. Just like the way when it was first made! H&H Auto can restore your Camaro instrument housings to like new, we also restore lenses. Thanks, Jim!

---
John Schrecengost from Kittanning, Pa, sent his original 1970 Chevelle LS-6 instrument cluster to the Tachman for a complete restoration and amp gauge to volt meter conversion. John recently received his restored cluster and has this to say about the restoration: Gary, received the gauge cluster this afternoon and everything looks great. I am very pleased with the work and very excited about the conversion to volt meter. Incidentally, John has stored the original 454-450 LS-6 engine for almost 39 years! Every nut and bolt is there! He will be sending me pictures of the car when fully restored! Thanks, John.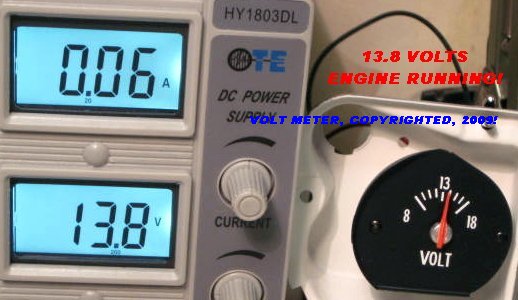 The picture on the left is John's restored LS-6 cluster with the amp gauge to volt meter conversion ready to install. Accuracy and no more guess work when monitoring your alternators output!
THE TACHMAN CAN ALSO CONVERT YOUR 1970-72 AMP GAUGE INTO AN OIL PRESSURE GAUGE. CLICK

TO FIND OUT MORE!
---
Eddie Fernandez, a dedicated police officer in New Jersey, had this to say about the Tachman's restoration of his Mustang Shelby instrument cluster with N.O.S housing: Hello, Gary I just returned from the shop where my Mustang is being restored. I dropped off the cluster and I am happy to report it was a home run. The guys at the shop loved your work and were amazed with the attention to details. Just want to thank you for the outstanding job and helping me make the right choices. Eddie is going to the Shelby convention in October and expects to win 1st place. If you saw the car and Eddie's dedication to detail I know he will win! Eddie asked me if it was ok to place a small sign next to the car stating "Restorations by the Tachman.com. Eddie was almost talked out of sending his cluster to me by a friend who had been ripped off by another restoration shop. Well, now the friend wants to send his cluster to me! When it comes to Mustang cluster restorations the staff at H&H Auto will do our best to make your dream come true!

Here is the Picture of Eddie's 1967 Shelby Instrument Cluster with an N.O.S. Housing! WOW!

---
Clint Root from Delaware, Michigan had the Tachman restore his early 1969 Mustang main side panel and all the instruments. Here is what Clint has to say upon receiving his entire 1969 instruments cluster, shown below: AMAZING!! The only thing I can say besides thank you! I have seen so many restored Machs with clusters that never received proper attention and it always made me want mine restored correctly. I really appreciate what you have done for me. There are not too many folks that impress me with their work. You, Gary, certainly have!!! Clint's cluster is shown below.

---
Trent Quick from Huxley, Ia called me and ask if The Tachman could restore his 1972 Chevelle cluster in white with special coloring on the tachometer redline and instrument needles. Trent also wanted an oil pressure gauge in place of the amp meter. Tachman silk screened the cluster in white, no decals or stickers, converted the amp gauge to oil pressure and restored all the instrument housings as well.
Here is what Trent had to say about the cluster when he received it: Gary, I received the cluster today and it looks great!! You are right about decals, screen printing on the dial is the way to go. I installed the cluster today and not only does it look great in the car, but everything works perfectly. Below are some pictures of Trent's 72 Chevelle tachometer and gauge cluster in white, The Tachman can!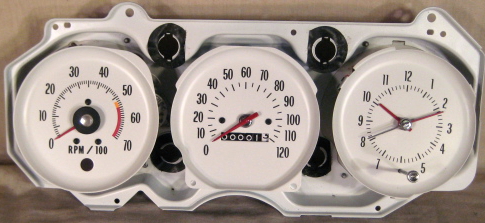 ---
Tom Hasenberg from Campbell, Ca had the Tachman restore his 1970 Boss 302 Mustang tachometer and gauge cluster. Tom wanted to keep the bezel original as he did not like the reproduction camera finish units. Tachman restored the entire cluster, silk screened all the instruments and replated/ detailed the bezel. Here is what Tom had to say about the cluster when he received the unit: Gary, the cluster is beautiful! Your 3 wire conversion on the tachometer is very accurate. I will be sending my 1969 Boss 302 cluster in the near future, thanks for a professional restoration sand timely turnaround!
Below is a picture of Tom's restore 1970 cluster with replated/restored instrument bezel!

---
Chuck Zullinger of Escondido,Ca, had this to say about the Tachman"s restoration of his 1967 Chevelle instrument cluster and clock: Gary, all I can say is Wow! Everything turned out beautiful. I can't imagine these gauges looked this good back in 1967 when they rolled of the assembly line!! Many thanks, Chuck. Call, 864 895 4404, Monday through Friday, 10-5 E.S.T. and let us restore your cluster.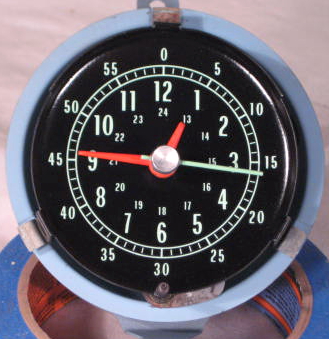 ---
Darrell Arnold from Georgetown, Ky needed a quick turnover to convert his 1969 Mustang Mach 1 tach and gauge cluster to a 1969 Shelby tach and Gauge cluster. Since H&H Auto has been authorized service since 1979 we were ready for the challenge and turned it over quickly. Her is what Darrell had to say when he received his 1969 Mustang Shelby Cluster: Gary, I had to chase the UPS man down today and got my instrument bezel. I was truly amazed at the job you have done. So far on this project, you are the only one that has done exactly what you said you were going to do in a timely manner and I really appreciate this. I will be contacting you soon so you can restore the clock side of the dash. Thank's Darrell. Below are some pictures of our restoration of Darrell's 1969 Mach 1 cluster to a 1969 Shelby cluster.

. Tachman now offers 1969-70 Mustang rechroming of housings. The quality is the best and turn around is 3-4 weeks.
The number to call is 864 895 4404,
---
Classic Restorations from Pine Island, N.Y. had the Tachman Completely restore their 1970 426-Hemi Cuda instrument cluster, comments:
Doug had this to say: Gary, I opened the box and had to go to lunch to celebrate because your restoration was so perfect and the detail was unreal.
Melvin (the owner) and I are so glad we sent the unit to you. Thanks for the constant communication and assistance you gave us. This was a real big project for us and you made it happen, on time.
Mopar restos for 30 years. www.tachman.com/mopar.htm


1972-74 E BODY GAUGE RESTORATION WITH WHITE FACED GAUGES! Click

and see our Mopar instrument restorations!
---
Bruce Bishop, one of the more knowledgeable car collectors in the country and a friend of Carroll Shelby, had the Tachman restore his 1969 Mustang Shelby G.T 500 convertible instrument cluster and clock housing. Bruce is a perfectionist when it comes to collecting classic cars and what a collection he has! Well, Bruce saw a 1969 Shelby 140 speedometer I had for sale on Ebay and called me to see if I had all the other parts for a complete cluster and I did. This is what Bruce has to say about the total restoration: Wow, great job! being a main focus in the car it is so important this was done right and you pulled it off. I hope the rest of the car will do your work justice, they look better than new! I thank you for your professional work. You are the man! Bruce has honored me with comments from his web site and I am humbled! Click here

and visit Extreme Motorcar and see the comments Bruce has for the Tachman, click on the vendors button, then look at the pictures. When it comes to Mustang instrument cluster restorations, dial refacing, tach repair, etc. The "Tachman" is the one to call! 36 years of authorized service! Thanks, Bruce!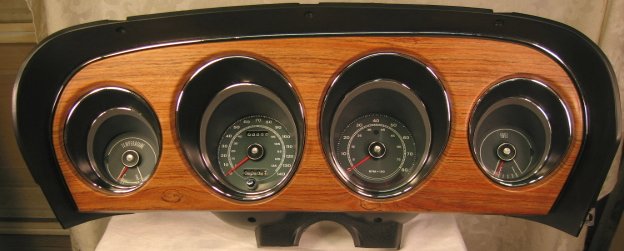 ---
Terry Crossland of Clovis, New Mexico had this to say about his 67-68 Mustang speedo and tach conversion:
Gary, the conversion and re-calibration of my 67-8 Mustang speedo to 140 mph and the tach to 8000 rpm was absolutely BRILLIANT . Thanks!!!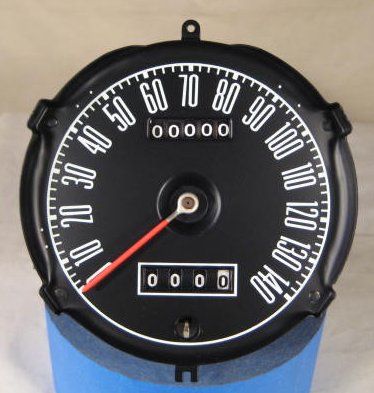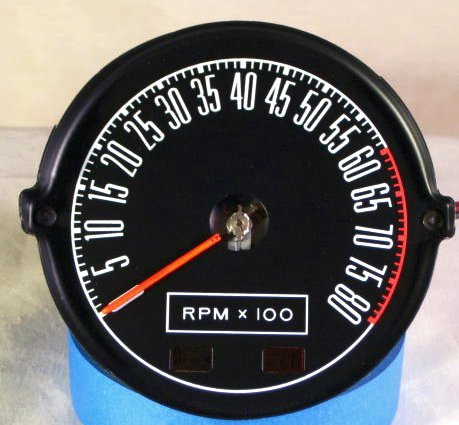 ---
Ron Gregory from Raleigh, N.C. (just a short hop up the road from our shop in Greer, S.C.) had this to say about the restoration of his 1969 Mustang Shelby G.T 500 convertible instrument cluster and clock Housing: In the world of instrument restoration, it is difficult to find another craftsman with the knowledge, skill and integrity of Gary, "The Tachman." From our very first conversation to the day that he and Vanessa (Tachwoman) personally delivered my completed gauges, Gary guided and kept me informed through the entire process. He never over promised, but definitely over delivered the finished product. As shown in the pictures below, Gary's attention to detail in absolutely concourse level. The man is a fanatic. I offer you the following proof: I had purchased a converted 69 Shelby 140 speedometer from an Bay seller. When Gary saw the speedometer, he said no way was this unit going into any car he was associated with or restoring because of poor art work and graphics. So, he refaced the speedometer to his level of workmanship at no added cost to me! This is the kind of man I want to do business with. At any price, you cannot make someone care. Gary cares! I am more than glad to say that it's not just my opinion regarding Gary's work. Every person in the shop ( Baltimore, Maryland by the way my home state as well) who saw the gauges were just blown away. I would not hesitate to recommend Gary's to anyone. If you want the best instrument service available, Gary the "Tachman" is the person you have to turn too! My dad is sending his 1962 T-bird cluster for him to restore in the near future!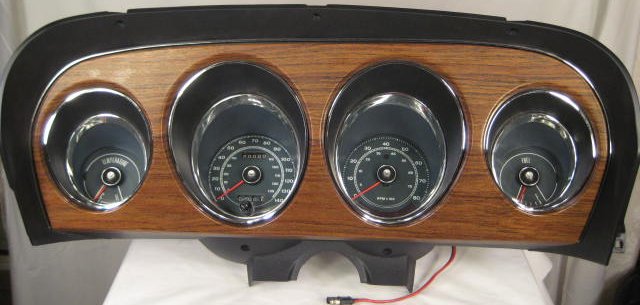 View our Ford page by clicking here

and see Ron's cluster. You know the number to call 1-864 895 4404 or email us at tachman@bellsouth.net! Thanks, Ron!
---
Arild Thu of Sumas, Wa, owns a 1968 Shelby KR 500 Convertible. Unfortunately, his car caught fire and burned up the instrument cluster. He considered throwing the speedo and tach away because he thought they could not be saved, but then he found the "Tachman" at H&H Auto. Here are Mr. Thu's comments: Gary, I received the speedo and tach and can't believe the beautiful job you did. To think I was going to throw them out believing they were unsaveable. You truly are a master of your craft. Thanks again, Arild. The "Tachman" can.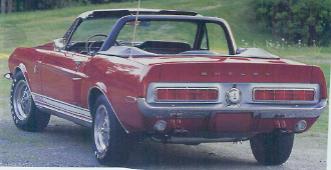 The Tachman was featured in the July, 2008 issue of "Mustang Monthly" (page 28) concerning Mr. Thu's restoration of his 1968 GT 500 "King of the Road" rag top! The Tachman is authorized Ford/Mustang instrument repair/ restoration service and can do the same for you. Check out www.tachman.com/ford.htm and see why the "Tachman" is the name you can depend on!
---
Click on the main page radio button below and see all 37 years of instrument restoration by the Tachman!