1969-1970 MUSTANG, SHELBY INSTRUMENT RESTORATIONS!

---
SCROLL DOWN THE PAGE AND SEE EXAMPLES OR OUR 3 WIRE CONVERSIONS!
Free Evaluations, Reasonable Rates, Expert Advice, Authorized Service!
For Shipping Address Click on Main Page


TO SEE THOSE GREAT MUSTANG SHELBY COMMERCIALS FROM THE PAST! YOU WILL LOVE IT!
---
CLICK

AND TACHMAN WILL ASSIST YOU IN TROUBLESHOOTING YOUR CLASSIC MUSTANG INSTRUMENTS. TACHMAN DOES NOT WIRE FORD CARS. ALL THE DIAGRAMS I HAVE ARE ON THE TROUBLE SHOOT PAGE. GO THERE, CLICK ON WIRING AND THEN "MUSTANG"
35 YEARS OF TROUBLESHOOTING INFORMATION IS JUST A CLICK AWAY.
CLICK ON

AND SEE TESTIMONIALS FROM OUR CLIENTS.
---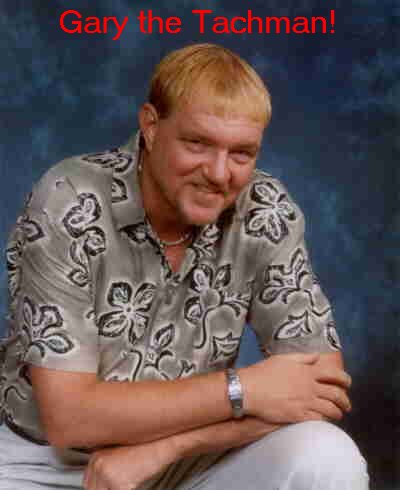 THE TACHMAN!
CERTIFIED AND AUTHORIZED FORD/MUSTANG TACHOMETER REPAIR SINCE 1979!
THE TACHMAN WAS TRAINED BY GEORGE MISER IN 1979 AT FARIA! MISER IS THE DESIGNER OF ALL FORD/MUSTANG IN LINE TACHS!
---
H&H AUTO IS THE ONLY RESTORATION SHOP IN THE WORLD THAT HAS CORRECT FACTORY MUSTANG/FORD FONTS PRINTED ON DIAL FACES. WE DO NOT HOT STAMP OR USE DECALS. EVERY INSTRUMENT WE PRINT IS JUST LIKE THE ORIGINAL AND SCREEN PRINTED ON THE DIAL. WE ALSO STOCK ELECTRONIC CIRCUITS FOR MUSTANG AND FORD TACHS. CALL US TODAY FOR A FREE EVALUATION.
1-864-895-4404
---
TO REVIEW AND CHECK OUT OUR SERVICE AND RESTORATION CHARGES CLICK ON THE RADIO BUTTON BELOW!
AT H&H AUTO OUR CLIENTS DO NOT HAVE TO PAY FOR A WARRANTY ON OUR RESTORATION SERVICES. OUR CLOCK QUARTZ UPDATES CARRY AN INDUSTRY LEADING 4 YEAR WARRANTY! WHEN WE INSTALL PARTS TO REPAIR YOUR TACHOMETER, SPEEDOMETER AND GAUGES THEY CARRY A 2 YEAR WARRANTY! AND WE STAND BEHIND OUR WORK WITH EXPERT CUSTOMER SERVICE AND PROFESSIONAL TECHNICAL ADVICE. H&H AUTO SINCE 1979!

After reviewing the price list and you don't see your instruments listed, just give us a call! 1-864-895-4404
---
TACHMAN NOW CONVERTS 1965-1973 MUSTANG TACHOMETERS TO 3 WIRE CONFIGURATIONS.
WE DO NOT USE AFTER MARKET TACHOMETER GUTS AND THROW THEM INTO YOUR MUSTANG TACHOMETER AS SOME DUE. WE HAVE DESIGNED A VERY ACCURATE 3 WIRE ELECTRONIC CIRCUIT AND A COIL METER USED BY NASCAR AND ALL MAJOR AUTOMOTIVE COMPANIES THAT INSTALL THESE COILS IN NEW CARS. OUR 3 WIRE CONVERSION IS SO GOOD, YOU CAN RACE WITH YOUR CONVERTED FACTORY TACHOMETER. 4 YEAR WARRANTY!
ALSO, WITH THE 3 WIRE CONVERSION, YOU NEVER HAVE TO WORRY ABOUT THE TRANSFORMER GOING OUT IN YOUR ORIGINAL FORD ELECTRONIC CIRCUIT. THIS ELIMINATES YOUR ENGINE FROM STALLING WHEN THE TRANSFORMER IN YOUR ORIGINAL FORD CIRCUIT BURNS OUT.

---
1969-1970 MUSTANG TACHOMETERS CONVERTED TO 3 WIRE.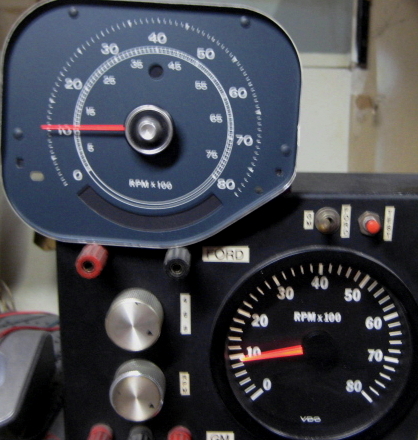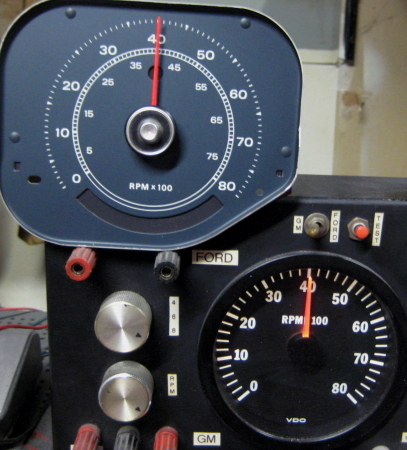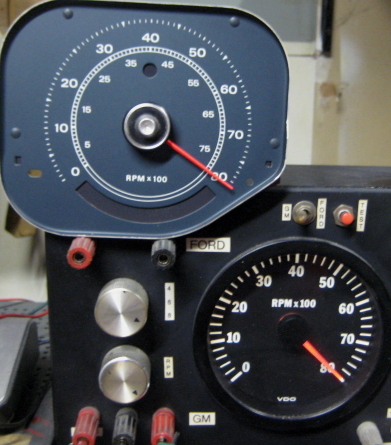 SEND US YOUR 1965-1973 MUSTANG TACHOMETER FOR OUR NEW UPGRADE. NUMBER TO CALL IS 864 895 4404!
---
TACHMAN CAN RESTORE YOUR MAIN AND CLOCK SIDE BEZELS.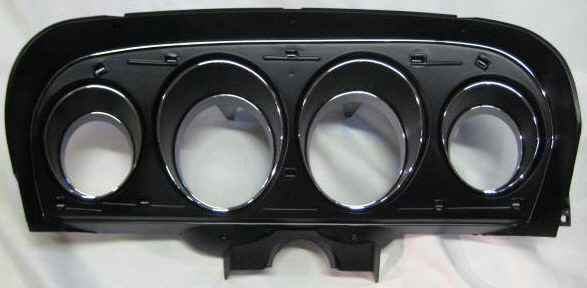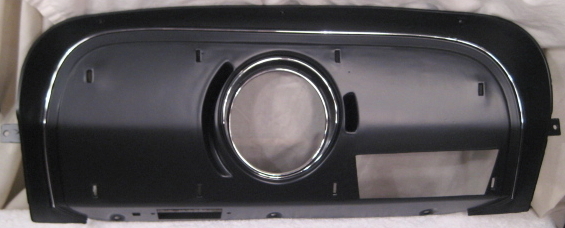 ---

RESTORED 1970 BOSS 302 INSTRUMENT CLUSTER AND REPLATED/DETAILED INSTRUMENT HOUSING! WE CAN ASLO RESTORE THE 1969 HOUSING AND INSTRUMENTS!
---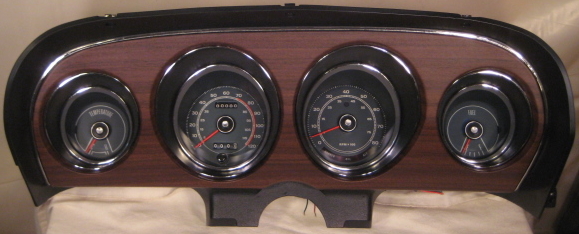 1970 MUSTANG MACH 1 MAIN AND CLOCK SIDE, COMPLETELY RESORTED. TACHOMETER HAS BEEN CONVERTED TO 3 WIRE!
---
Metalizing

Is a process where small pieces of aluminum are vaporized in a vacuum chamber adhering itself to the urethane base coat resulting in a mirror like chrome finish.
After metalizing, the part is then top coated with a high quality clear urethane and baked again until it cures to a hard scratch resistant finish protecting it for future use.
Your dash is then ready for paint and detail. It is taped off by hand and airbrushed with a top quality automotive paint that has a great looking finish and resists fading over time.

Turn Around
All transactions are completed as quickly as possible and waiting time is usually 3-4 weeks.
---
1969-70 Specialized Instrument Services
1. Complete 1969-70 deluxe and standard interior instrument restorations including dial refacing.
2. 120 to 140 mph speedo conversions for deluxe interiors. Restoring trip odometer and odometer wheels!
3. 4 year warranty on quartz updated clocks!
1969 SHELBY 140 SPEEDO, RE-FACE, RESTORATION! JUST LIKE IT CAME FROM THE FACTORY! RIGHT PICTURE IS FROM THE SHELBY REGISTRY!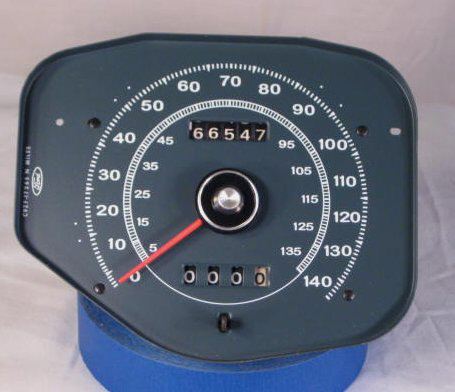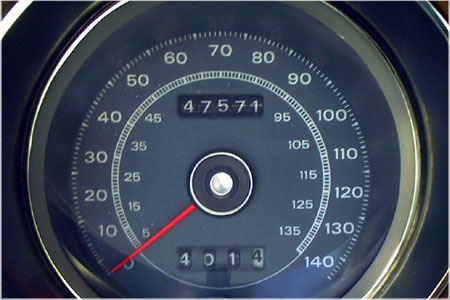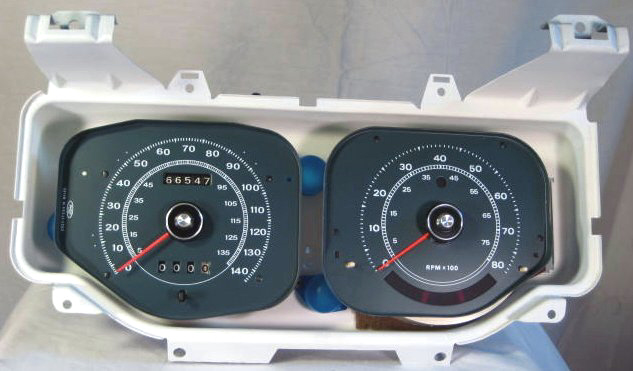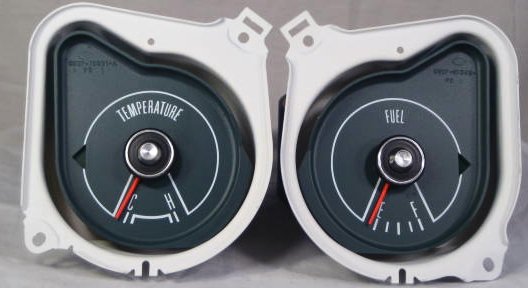 1969 SHELBY 140 SPEEDOMETER, TACH AND HOUSING RESTORATION! 1969-70 DELUXE INTERIOR GAUGE DIAL FACE RESTORATION!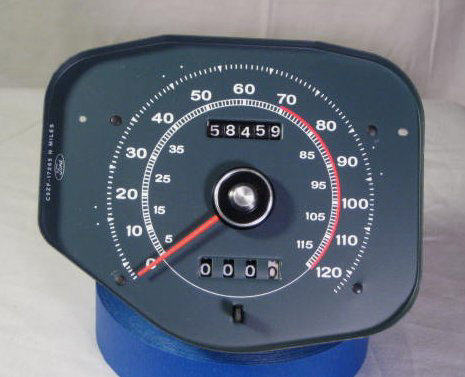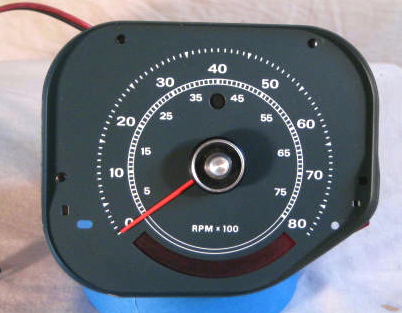 1969-70 MUSTANG DELUXE INTERIOR 120 WITH TRIP SPEEDOMETER RESTORATION AND TACHOMETER RESTORATION!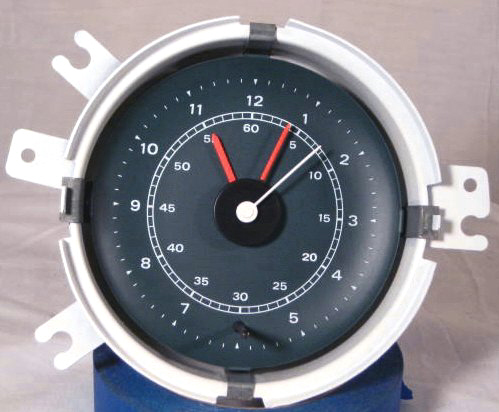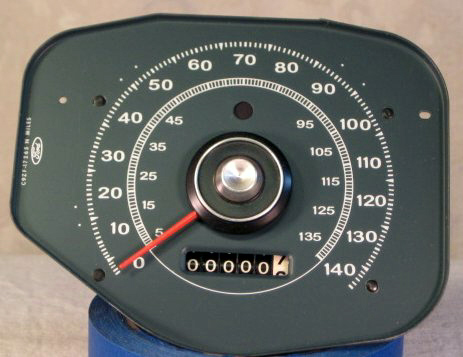 1969/70 MUSTANG DELUXE INTERIOR CLOCK RESTORATION AND NON TRIP SPEEDOMETER PRINTED TO 140 SHELBY SPECS!
---
1969/1970 DELUXE INTERIOR MUSTANG NON TACH CLUSTER RESTORATION!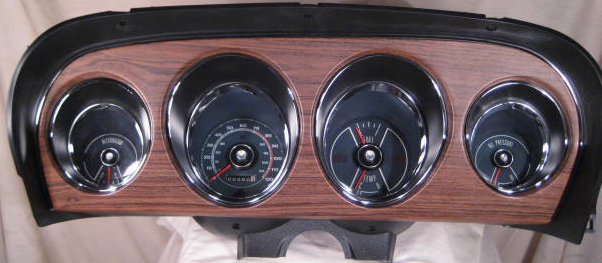 COMPLETE RESTORATION OF AN EARLY 1969 MUSTANG SHELBY INSTRUMENT CLUSTER WITH TEAC WOOD GRAIN!
---
FROM THE TACHMAN!
CONVERT YOUR 1969/1970 DELUXE INTERIOR 120 OR SHELBY 140 MPH SPEEDOMETER WITH OR WITHOUT TRIP TO 240 KM/H.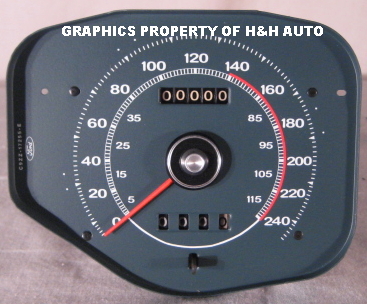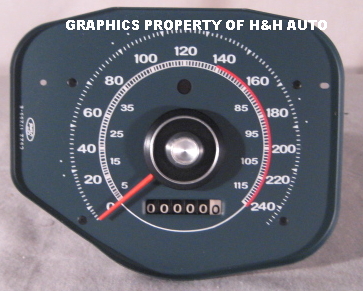 THE TACHMAN CAN NOW OFFER YOU THE EXPORT VERSION OF THE 1969 1970 SHELBY 140 SPEEDOMETER IN 240 KM/H!
GIVE US A CALL TODAY AND LET US REFACE AND CALIBRATE YOUR DELUXE INTERIOR SPEEDOMETER TO 240 KM/H. THE GRAPHICS ARE FORD CORRECT FOR THIS SPEEDOMETER THAT WAS OFFERED IN EUROPE. EVEN THE PART NUMBER IS CORRECT C9ZZ-17255-E. THE NUMBER TO CALL IS 864 895 4404!!
---
1969 1970 MUSTANG DELUXE INTERIOR 200 KM/H AND 200 MPH SPEEDOMETER!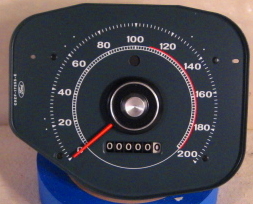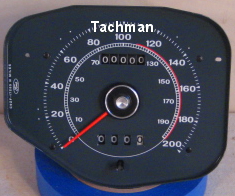 TACHMAN NOW OFFERS A 200 KM/H AND 200 MPH SPEEDOMETER FOR YOUR 1969 1970 DELUXE INTERIOR. THE 200 KM/H SPEEDOMETER IS A RARE OPTION FOR EUROPEAN MUSTANGS AND THE 200 MPH SPEEDOMETER WAS NEVER OFFERED BY FORD, SPECIAL ADDITION FROM THE TACHMAN.
---
TACHMAN CAN NOW RESTORE YOUR 1969/70 MUSTANG TACHOMETER, SPEEDOMETER AND GAUGES IN WHITE!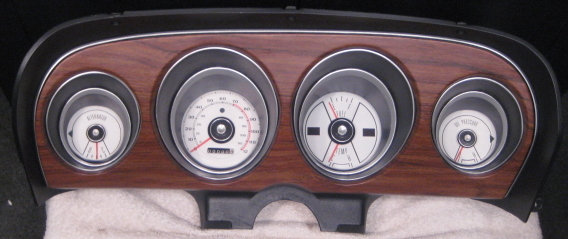 WE RESTORE THE CLOCK DIAL IN WHITE AS WELL!
---
1969/70 BOSS 302/428CJ SPEEDOMETER, TACHOMETER AND GAUGE COSMETIC RESTORATION AND REPAIR!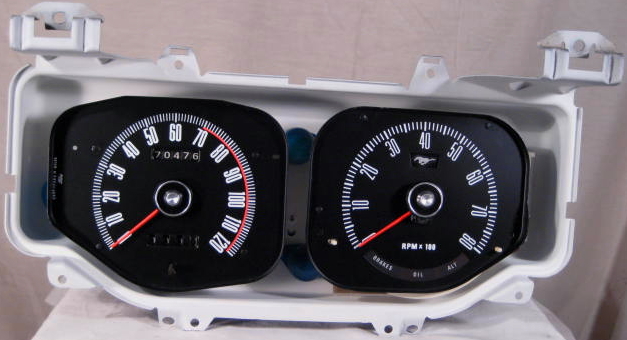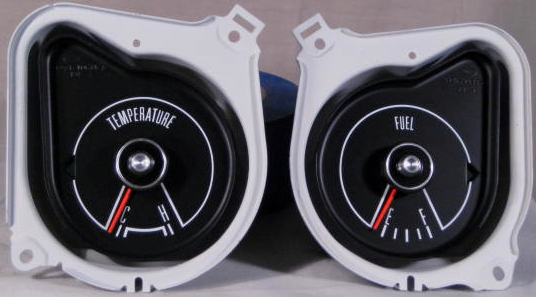 1969/70 BOSS 302/428 TACH, SPEEDOMETER AND GAUGE RESTORATION.
---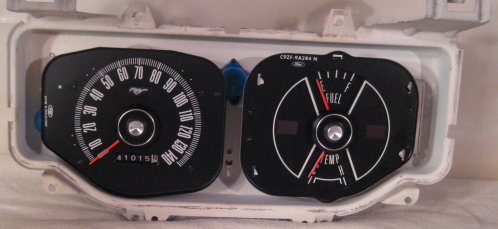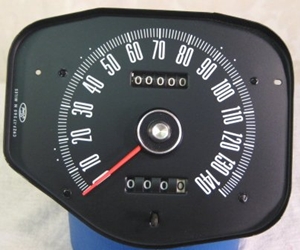 WE CAN NOW CONVERT YOUR 1969-70 MUSTANG STANDARD INTERIOR 120 SPEEDO WITH TRIP OR NO TRIP TO 140 M.P.H!
GREAT ADDITION TO YOUR 69 0R 70 STANDARD INTERIOR! WOULD LOOK GOOD WITH YOUR 8000 STANDARD INTERIOR TACH! BOSS 302, MUSTANG!
THE STANDARD INTERIOR NEVER HAD A 140 SPEEDOMETER, BUT THANKS TO THE TACHMAN, NOW YOU CAN!
---
---
NEED A 200 KMP/H 1969/70 STANDARD OR DELUXE INTERIOR SPEEDOMETER?, THE TACHMAN CAN DO IT!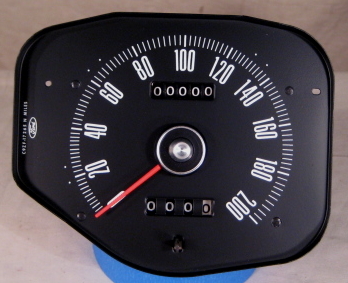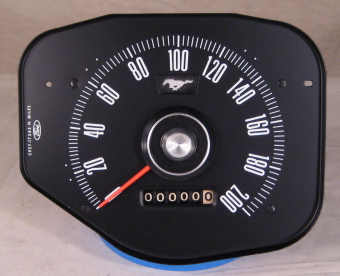 ABOVE IS FOR THE STANDARD INTERIOR, WE CAN ALSO CONVERT THE DELUXE INTERIOR TO 200 KMP/H!
---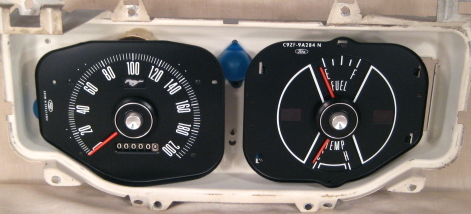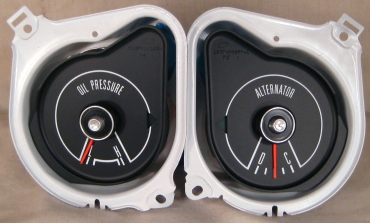 1969 MUSTANG BOSS 302 GAUGE RESTORATION WITH 200 KM/H SPEEDOMETER
---
TACHMAN NOW RESTORES 1966-1973 MUSTANG AM, AM-FM RADIOS AND TAPE PLAYERS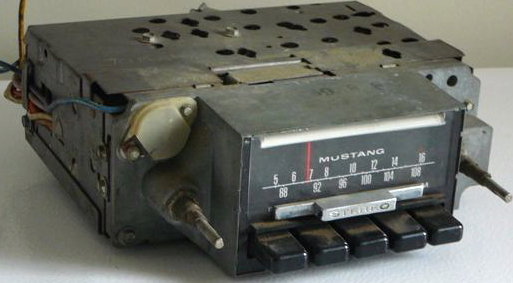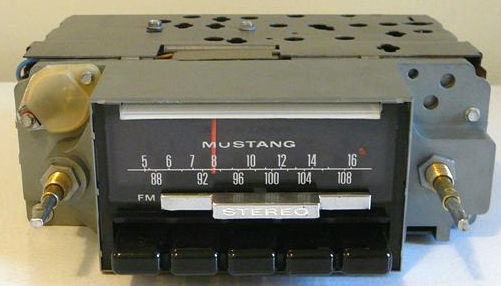 RADIO/TAPE PLAYER RESTORATIONS $295-$525.
---
CHECK OUT THE INFO PAGE TO SEE PERTRONIX ELECTRONIC IGNITION INFORMATION, THE DIFFERENCE IN 1967-70 MUSTANG TACH/STANDARD CLUSTER HOUSINGS, MSD TECHNICAL SUPPORT NUMBER (PLEASE CALL MSD BEFORE YOU CALL THE TACHMAN) AND COUGAR/MUSTANG TACHOMETER DIFFERENCES!
CLICK ON SHELBY RESTO TO SEE THE TACHMAN'S AWARD WINNING 1967-70 SHELBY, BOSS 429 AND MACH 1 INSTRUMENT CLUSTER RESTORATIONS!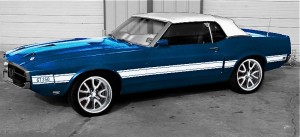 ---

THE TACHMAN!
Click on the Button Above to Return to the "Tachman.Com" Main Page